FireDL should have some special place in heaven for all of our FireStick fantasies. Yup! we are not even exaggerating to begin with.
In case you are wondering what FireDL is, let us just put it in a simpler way. FireDL is your Google Store to FireStick, only with certain codes.
Basically you get the convenience of having multiple apps in one go. Each app has a unique code which we are going to mention in a while. You can sideload the apps within a few snaps.
Your manual work is all sorted with these following codes.
Here you go! Some of the top picks are here written for your ease. You can simply copy paste the codes and use them on your FireStick:
FireDL Codes for Apps
Aptoide TV- 300016
Mobdro app- 564837
Aptoide app- 300012
FreeFlix HQ app- 452090
Amaze File Manager app- 300013
MX Player app- 278885
Terrarium TV APK app- 666244
Aptoide app- 280847
CotoMovies (Bobby Movie)app- 451896
Live Net TVapp- 790249
BeeTV app- 455775
Morph TV app- 355326
Attention FireStick Users: Important Notice before you continue reading!
While most of you may or may not know, Governments and ISPSs worldwide have a strict check on their users online activities. In case, any copyrighted content is found streaming, you can land into serious consequences which may be as severe as suspending of your online account. Please know, that your current IP 39.37.178.55 is visible to everyone. We therefore urge you to get started with a reliable Firestick VPN immediately. This will help cover your identity via VPN's multiple servers, while giving you the premium viewing experience.
IPVanish has been the fastest and most reliable secure VPN we have come across so far. Their servers are widespread and strictly secured. The VPN is very easy to install and user-friendly on every device including the Amazon Fire TV Stick. If you are not sure about the app, it comes with a 7-day money back guarantee with a refund. IPVanish also has a very attractive deal in which, when paid for a whole year subscription you can avail 46% discount on your annual plan!
FireDL Codes for Kodi
Durex Wizard- 573999
Diggz Xenon Build – 473156
Gensis reborn- 033882
nvidiabigbuild- 967928
Aura Skin Kodi- 316880
One Alliance Lite -206207
SpartanRepo- 728037
DreamXBM STB EMU- 190672
New FireDL Codes for FireDL on Firestick Apps (2020)
Kodi 17.6 32 Bit APK Android (296283)
Fildo – (300006)
Geo Streamz – (680025)
Mobile TV – (680028)
HBO Movies – (680010)
IPTV SMARTERS PRO – (124349)
Bobby Movie (cotomovie) – (680032)
ES Explorer – (300010)
VLC 2.0.6 ARMv7 – (300014)
Newest Movies v 1.4 – (539401)
Kodi 17.6 64 Bit APK Android -(296282)
TV TAP 2.1 FIRESTICK – (170607)
Mouse Toggle 1.09 – (300008)
i4Sports – (680021)
USTV 4K – (050504)
Cinemax – (680032)
STREAM! – (600000)
TeaTV Official – (808853)
Kodi 18 – (268215)
Digibit VPN – (829111)
mxplayer – (518809)
Movie HD 4.5.5 – (440289)
YesPLayer – (022997)
RedBox TV – (693082)
APK Time – (767221)
FireDL APK Installation Guide
Fire up the Main Menu.
Go to Settings.
2. Click on Device and My Fire TV.
3. Select the Developer Options.
4. Select on Apps from Unknown Sources.
5. Make sure the toggle is turned on.
6. Go back to Home Screen and go to the search icon.
7. In the Search bar, type in Downloader.
8. Select the searched Downloader.
9. Click on Download.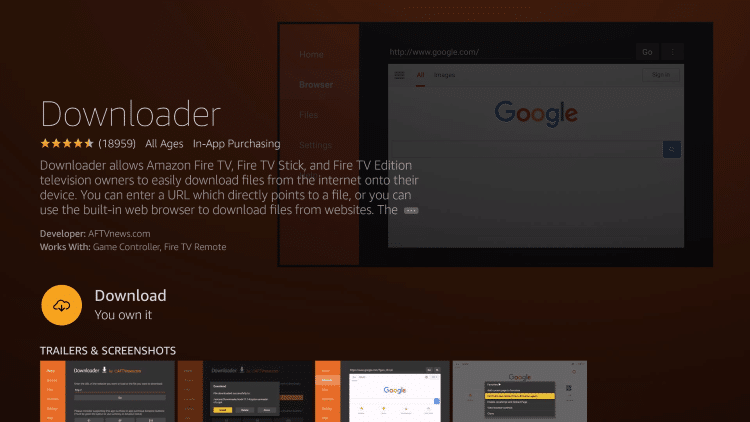 10. Click on Open.
11. Click on Allow.
12. Click on OK.
13. Make sure you type in the right URL as showed in the following name path: https://firestickjailbreak.net/fdl.
14. Wait for the download to finish, it will take a minute to download.
15. Click on Install.
16. Tap on Done.
17. Now after the downloading the Downloader app. Click on Delete.
18. Click on Delete again.
19. Navigate back to Home Screen. Go to 'Your Apps & Channels' and click on the option of 'See All'.
20. If you want to Move your App, scroll down to the bottom. Click on 'Move'. and drop your app wherever you wish to drop it.
And that's all folks, Installation of FireDl is complete!
Always protect yourself with a reliable and fast VPN services. We recommend you masking your activities from the public portals, especially with cyber crime on the loose. Investing in a good VPN service will not only help you access huge library of free media, but also keep you safe from any hackers only.
Register for IPVanish VPN, by clicking on the link
Our readers get an exclusive hefty discount, so make sure you are making the most of out it!
On your FireStick device, go to the homepage and type in and search for 'IPVanish VPN' in your search bar.
Click on the IPVanishVPN you see in your search.
Click on 'Download'.
Once downloaded, you would need to register with the username and password information you must have provided while registering.
Once signed-in, click on 'Connect'.
Soon you would be connected. You can disconnect from the connection whenever you wish to stop using a VPN.
How To Use FireDL Codes
Since now we have the app installed, we will now tell about how you can use FireDL to install other apps. We will be installing Cinema APK for this purpose.
1. Fire up the main FireDL and type in the following code as shown you here.
2. Soon after you type into the path, it will be turned into a url link. Click on Next immediately.
3. The download will finish within a minute.
4. Click on Install.
5. Click on Done.
6. This will take you back to the main 'Apps List'.
Note:
If you are using the FireStick, you should press on Settings button on your remote. Click on Move for it to come front.
Wait out for a minute, and your installation is done!
Enjoy the amazing streaming experience of Cinema APK via FireDL.
Our Final Thoughts!
We have loved this geniusness and we are sure you would love it too!
Let us Know about your thought and experiences with FireDL.
Please know that we update our content regularly. Although we try our best to cover all aspects of the targeted feature, however we will encourage our readers to make our work more interactive by commenting below with their thoughts and experiences.